Rapat persiapan untuk Seminar International Conference on Applied Science and Technology (ICAST) 2023 telah berlangsung pada hari Jumat, 20 Januari 2023. ICAST 2023 adalah edisi ke-6 dari konferensi ini yang diselenggarakan oleh Indonesian Society of Applied Science (ISAS). Politeknik Negeri Nunukan (PNN) menjadi host untuk ICAST 2023 dengan Kepala LPPM PNN, Siti Hajar, S.Si.M.Pd sebagai Ketua Panitia.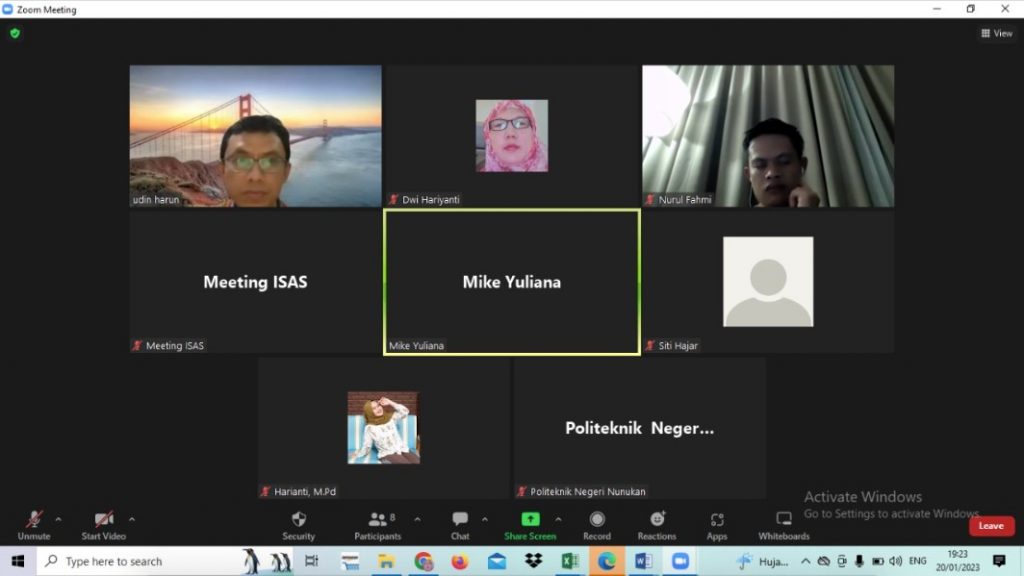 Rapat persiapan diikuti oleh para pengurus inti ISAS yaitu Bapak M. Udin Harun Al-Rasyid (koordinator Seminar), ibu Dwi Hariyanti (bendahara ISAS), Mike Yuliana (wakil ketua ISAS), dan juga beberapa perwakilan dari PNN. Dalam rapat ini, disinggung beberapa data historis pelaksanaan ICAST di tahun-tahun sebelumnya, meliputi:
ICAST 2018: Politeknik Negeri Manado
ICAST 2019: Politeknik Negeri Bali
ICAST 2020: Politeknik Negeri Padang
ICAST 2021: Politeknik Negeri Samarinda
ICAST 2022: Politeknik Manufaktur Bandung
ICAST 2023: Politeknik Negeri Nunukan
ICAST dilaksanakan setiap tahun dengan berganti-ganti host dari berbagai politeknik di Indonesia. Selain itu, rapat persiapan juga menyoroti histori publikasi ilmiah hasil seminar ICAST dari tahun ke tahun melalui International Conference on Applied Science and Technology on Social Science (ICAST-SS) di Atlantis Press dengan data berikut:
Rapat juga membahas pelaksanaan ICAST tahun lalu yaitu tahun 2022 dengan POLMAN Bandung sebagai HOST.
Beberapa informasi penting tentang ICAST 2022 yaitu:
Official Web: https://icast.isas.or.id/2022/
Paper Submission Deadline : July 31, 2022
Acceptance Notification : September 07, 2022
Deadline for Submission of Full Paper (Camera Ready ) : September 21, 2022
Registration : September 07-30, 2022
Conference : October 21- 23, 2022
Hasil rapat persiapan ICAST 2023 meliputi:
Tanggal Pelaksanaan Konferensi akan ditentukan oleh HOST, diharapkan dapat ditentukan secepatnya agar peserta dapat mempersiapkan diri.
Konferensi dilaksanakan secara hybrid, yaitu peserta dapat datang secara OFFLINE atau mengikuti presentasi secara ONLINE.
Rencana Venue: di Balikpapan atau di Tarakan, akan ditentukan oleh HOST sesuai dengan kondisi dan situasi pandemi saat itu.
Struktur komite akan di-share lebih lanjut ke HOST untuk mempersiapkan pelaksanaan konferensi.
Bu Dwi (Bendahara ISAS) akan melakukan koordinasi dengan Bendahara HOST ICAST untuk urusan keuangan dan administrasi.
Diharapkan pelaksanaan ICAST 2023 akan lancar dan dihadiri oleh lebih banyak peserta. Konferensi ini merupakan kesempatan bagi para ilmuwan, akademisi, dan praktisi untuk berbagi pengetahuan dan pengalaman dalam bidang ilmu yang terkait dengan teknologi dan sains terapan. Para peserta juga dapat memperluas jaringan kerja dan menemukan kesempatan kerja sama yang menguntungkan.